Hi-Tech: Arimistane 60ct
Arimistane By Hi-Tech Pharmaceuticals - 60 Tabs - Estrogen Blocker
What Is Arimistane By Hi-Tech Pharmaceuticals?
Arimistane is the most potent anti-estrogen available. It is unique in comparison to the vast majority of anti-estrogens that were popular previously, as it is known as a "Suicide Aromatase Inhibitor". This means that it exerts its anti-estrogenic capabilities on the Aromatase Receptor Site in a permanent fashion, which causes an immediate decrease in estrogen, coupled with an extremely long effect of reducing estrogen. This means you can experience the benefits of this compound for many months after your cycle is over!
Just how strong is Arimistane? Compare it to other popular Aromatase inhibitors…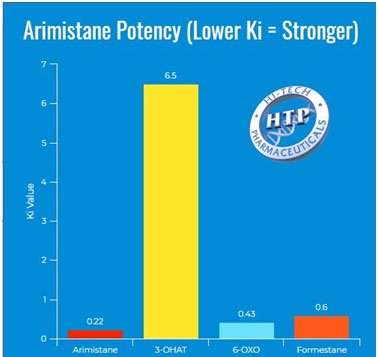 Arimistane features the lowest Ki value of any anti estrogen available. This means that it binds to the Estrogen receptor more effectively than anything else on the market, enabling it to lower estrogen, and thereby increasing testosterone to the biggest possible degree.
Breakdown:
Aromatase enzyme increases Estrogen
Arimistane decreases Estrogen
High Estrogen in men will lower LH (luteinizing hormone) which in turn lowers Testosterone
Conclusion:
Arimistane = increased LH and increased Testosterone
What Can Arimistane Do For Me?
Quickly Decreases Estrogen
Fast Testosterone Enhancement
Leaner & Dryer Physique
Increased Vascularity & Vasodilation
What's In Arimistane By Hi-Tech Pharmaceuticals?
Arimistane Dosage:
Recommended dosing: Take 1 tablet of Arimistane in the morning, and 1 tablet before bed.
PLEASE NOTE: Product image is representative of the product offered but may not have the exact attributes. Please read product description for the specific attributes of this product.
PLEASE NOTE: The information above is intended for reference only. While we attempt to keep our information accurate, we cannot guarantee it is an accurate representation of the latest formulation of the product. If you have any concerns, please visit the vendor's web site. The information above are the views of the product's manufacturer, not the views of Same Day Supplements. These statements have not been evaluated by the Food and Drug Administration. This product is not intended to diagnose, treat, cure or prevent any disease.